In the initial phase, we decided to build the APrON cohort but to do a much better job of evaluating prenatal nutrition than had been done in the past. We decided to ask women every trimester and once postpartum, and also to ask them for blood samples so that we could evaluate various nutrient levels. Later on, we collected data from the questionnaires when the children were 3-year and 5-year old.
The APrON study has changed its dimension of research in many ways in the past years. The investigators have been looking into topics such as socioeconomic status, child behaviour, child health and development, early childhood experiences, parenting, maternal health and wellbeing, and much more among APrON participants.
The rich data that have been collected is being used by many researchers in Canada to better understand and improve human health and well-being.
---
Conceptual Research Model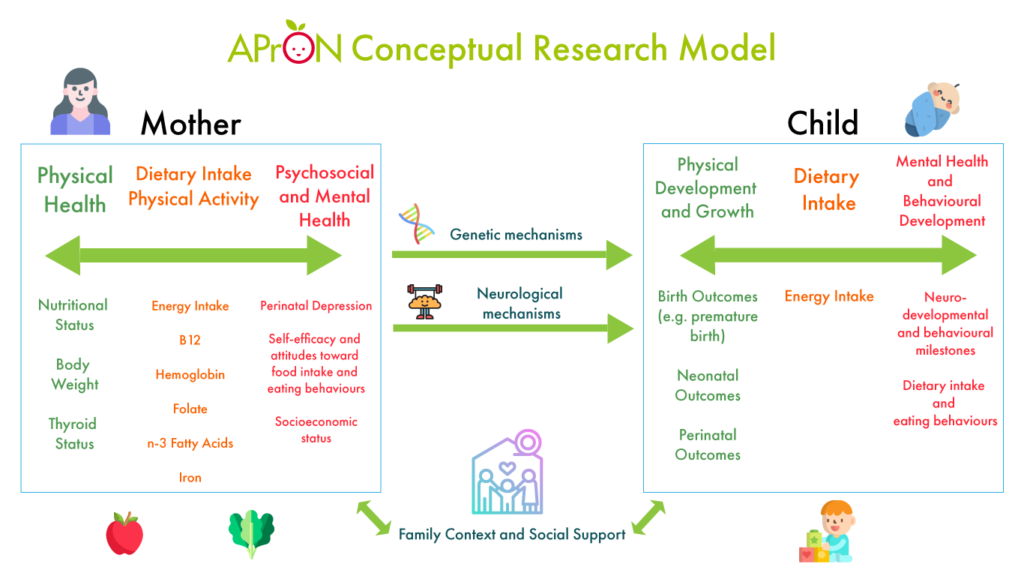 ---
Study Timeline
The APrON study has multiple waves of data collection. We have collected comprehensive maternal nutrition, body measurement, biological and mental health data at multiple points in the pregnancy and the post-partum period, as well as obstetrical, birth, health and neurodevelopmental outcomes of these pregnancies. This includes questionnaire data, clinical assessment information and biological sample results. Stored biological samples include blood urine and DNA samples.
Our vision is to follow the children of APrON until they might have their own babies one day in the future!
---
Impact
We have many pieces of research published in academic journals. You can view the list here. The results from the study are already making a difference in many different areas, such as:
providing information to prenatal vitamin producers or informing formula and baby food producers for product design
providing information to community groups to inform the most desired contents of pregnancy-based food banks
informing Canada's Food Guidelines for Pregnant Women
educating school boards and day-cares about optimal infant feeding and education practices
determining how risk factors for certain diseases may be heightened via genetics and nutrients